(This column originally appeared at www.yankeesxtreme.com, Yankees Xtreme. Reproduced here by permission of Ultrastar.)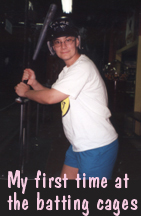 For our summer vacation this year, after taking in a few games at Yankee Stadium, my boyfriend and I loaded up our car and headed for The Jersey Shore. We figured there was the baseball part of the trip, and then the non-baseball part of the trip. Our plan was to lie in the sun, eat as much pizza, and play as much Skee Ball as we could stand. But as it turned out, the Yankees followed us everywhere we went.
The Jersey boardwalk is lined with hundreds of booths where you can win giant stuffed animals, home electronics, just about anything really – interspersed with clam bars, ice cream stands, tattoo parlors, and video arcades.
As we walked up and down, I remarked to my boyfriend that there seemed to be a lot of people in Yankees gear around. In front of us was a family: Dad in a Tino Martinez jersey, carrying a sleeping toddler in a little pinstriped hat. His eight-year-old daughter wore a Jeter t-shirt. I tried counting how many #2 shirts I saw that night, but above 25 I lost track. It was like we'd never left the Stadium, the Yankee fans were so thick.
Then, we came to the game of chance where Major League jerseys were the prize. Yeah, I played that one several times! And then we got stuck at a game giving away tv's–as every tv on the wall was tuned to the Little League World Series.
When we tore ourselves away from that, we wandered into the arcades. These places have video games, but also Skee Ball, Draw Poker, and slot machines, where the payout is in tokens redeemable for prizes. We scoped out a few places before picking one to play in.
Every arcade prize vault now has sports memorabilia. We perused a glass case of autographed baseball cards for a good half hour. A Derek Jeter rookie card, wow. An Al Leiter Yankees card! Chris Chambliss! Look how much hair Willie Randolph had!
And what's that big thing in the case? It's the autographed Jeter Louisville Slugger. I did a quick calculation in my head–I'd have to play about 650,000 games of Skee Ball to get it! Hmm.
Instead, I set my sights on an easier goal. A 1998 Championship pinstriped Bamm-Beano bear. You've seen these little bean bag bears, I'm sure. Well, the boardwalk was dotted with claw machines filled with the cute little things, named and numbered for many sports figures. Drew Bledsoe, A-rod, Ken Griffey, Jr. Even Jaromir Jagr.
We repeatedly saw five bears from the '98 team, Brosius, Wells, Strawberry, Martinez, and Jeter. Every time we saw them, I wanted one more and more. The way to beat the claw, though, is to wait until you find a machine where the prize you want protrudes above the rest.
After two days, I began to think we'd never get one. We had a Brosius bear on the claw once, but he fell before getting to the chute. That night we got back to our house empty-handed, and turned on the tv to unwind before going to sleep. We got sucked into watching the Braves/Rockies game. This was the wild game where Wasdin and Galaragga were ejected for fighting. Rockies catcher Brent Mayne pitched an inning and was credited with the win!
The next day we saw a sign that said "Batting Cages." I'd never been to a batting cage before, but I was curious to give it a try. The cages were in the basement of a funky little arcade off the beaten path. You put on a helmet, picked up a bat, and pumped four quarters into the machine in the cage. Twelve pitches per dollar. It might be the most fun you can have for four quarters at the boardwalk.
As we were leaving the arcade, I noticed a claw machine. There was a Jeter bear on the top of the heap, his arm sticking up like he was begging to be taken home! It took two tries, but then the claw snatched him right up. At last!
That night we packed the car and stopped by the boardwalk to grab dinner. We sat down at a pizza stand that shared tables with a bar, and the tv in the bar had the Yankee game. When we were done eating, I asked "Ready to hit the road?"
He looked longingly toward the tv.
"We could go into the bar and have a drink," I suggested, "if you want to watch the game."
He wasn't hard to convince. So he, and me, and our Derek Jeter bear, sipped Shirley Temples and watched a dramatic victory. And it was the best summer vacation ever.