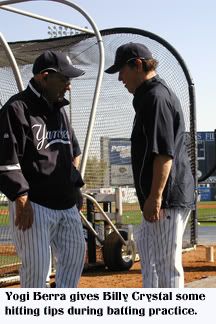 It's a gorgeous day in Tampa, Florida, today. Sunny and warm and dry, not humid or hot, nor chilly or rainy. And with Spring Training games about half done with, it was a perfect day for some diversion.
CRYSTAL CLEAR
Much of today's hullabaloo revolved around Billy Crystal, who lived a dream for his 60th birthday where he was signed to an actual contract with the Yankees organization, worked out with the team for a couple of days, and then today took a turn in the batting order. He led off the game against Pirates pitcher Pat Maholm, who pitched him exactly like he would any other right-handed leadoff man. A lot of cutters inside. The one pitch he threw on the outer half of the plate, Crystal fouled sharply down the first base line.
Perhaps the best thing about the comedian's turn with the Yankees was just how serious he took it all. Crystal did not approach this as a media stunt at all, nor did the Yankees. Derek Jeter suggested the idea and was the one to get the ball rolling, but Crystal himself handled it all with grace and humility. He began his own workouts with a hitting coach, Reggie Smith, earlier in the spring, and took batting practice with the Yankees yesterday and today.
Young Cody Ransom gave up his number 60 so that the 60-year-old Crystal could wear it, and also ended up lockering next to the "non-roster invitee." This meant that although Cody hit a home run today (Aside: A homer I called, when I saw it was Byung-Hyun Kim warming up and I turned to my mother to say "Look for a home run soon." I'm almost sorry I was right. B. K. is a sweet kid, but he's never adjusted to the United States nor to major league hitting. Every time it seems like he's getting it together, something happens like… he gives up a home run and gets Korea eliminated from the World Baseball Classic. For example. On the other hand, he ended up the Winning Pitcher in today's game, only because the Yankee pitching who follow him were worse.) which put the Yankees on the board after a six inning drought, he had to stand aside wearing nothing but a towel, waiting to get dressed because the media horde were surrounding Crystal.
We also knew Billy Crystal was a "real Yankee" when during BP he had perfected the ability to always be facing away from the cameras. "Most of the comedy today came from Robin Williams who was sitting right by the dugout," said Joe Girardi. "We could hear him the whole game."
MOOSE CALL
Mike Mussina wishes umpire Mark Carlson would be behind the plate for all his games. He got a lot of called strikes in the first, and as the game wore on, he looked better and better. He had an outstanding changeup today, and although he was not going to the big yakker as often as he did last Saturday, he threw all his pitches for strikes.
Manager Joe Girardi summed it up nicely. "Moose was excellent today. That is as good as he can throw."
Indeed, in five innings (64 pitches, 41 for strikes), Moose gave up the proverbial "bupkus." No hits, no runs, no walks. Five perfect innings. "He was living on the corners, changing speeds," said Girardi. "Leading me to believe he's going to have a very good year."
GOOD EYE
Some things I noticed in the Yankees clubhouse today.
Yogi Berra does not fall for the shoulder tap trick. Come up behind him and tap him on the right shoulder while you're actually on the left… and he turns to the left.
Andy Pettitte has what looks like a larger-than-usual box of fan mail waiting by his locker. (It's still nothing compared to Jeter's–Derek has a whole separate locker just for his mail.) I have to wonder if the whole HGH-Clemens-McNamee kerfuffle has generated extra mail for him.
What's up with Morgan Ensberg wearing #21? He's the first man to wear the number since Paul O'Neill retired, and the longstanding surmise among fans and the media is that O'Neill's number will be retired. Does wearing the number make it more or less lkely that Ensberg will make the team?
On the whiteboard next to Mike Mussina's locker, someone with very neat handwriting had written "5 innings + 0 hits = Gutsy." It was signed "Kennedy." Presumably Ian Kennedy, the youngster whose stuff is often compared to the Moose's.
Joe Girardi's office door is closed a lot more often than it was when it was Joe Torre's office. That's because Girardi does not seem to spend much time in there. He grabs his lunch from the clubhouse spread and takes it into the coach's locker room to eat.
Figures from past dynasties abound. From the 90s, David Cone, Paul O'Neill, and Tino Martinez are all here. Tino threw BP to Melky Cabrera and some other young hitters in the cage under the stands this morning, while Cone and O'Neill both worked the YES Network broadcast today. Goose Gossage, Ron Guidry, Graig Nettles, Mickey Rivers, and Reggie are all in attendance from the 1970s "Bronx Zoo" crew. You don't, however, see so many people hanging around from the Yankees' fallow periods.
Melky Cabrera's clubhouse nickname is "Leche," which is Spanish for "Milk."
On the section of cinderblock wall between Mussina and Philip Hughes' lockers, Hughes hung a poster that looks like a window to brighten things up. Next thing you know, some of the other guys added a sill and curtains to it, and have decorated around the "window" with vintage gas station advertisements and the like.
After the game, Paul O'Neill came down to the clubhouse, bummed some new sneakers and some workout clothes off the clubhouse attendants and then declared "I'm gonna go get some iron in me." He was last seen in the weight room.
COMING NEXT
I'll be reporting again from Tampa on Saturday, and don't miss my exclusive interview with David Cone, slated for Gotham Baseball's web site.