Before my trip to spring training this year, I decided to improve my old scorecard design. Although the old one was good for most regular season games, I wanted another line or two for pitchers names, and space to write up to four batters for each line in the lineup. So now there is room to enter six pitchers per team, and a dotted line splits the name boxes on the right and left sides. (For the story of my old score card and scoring system, see "I Need A Scorecard")
It wasn't so much that I needed the extra room, as much as I wanted to enhance the way I recorded the unique drama that is every baseball game.
Among the data I wanted to record on every scorecard were the starting and ending times of the game, total game time, weather, that day's attendance, and also how the game information was received. After all, these days I see some games live, listen to some through the radio, listen to others through Internet radio (both home and away broadcasts), watch on TV, and so on.
I know last year I said I probably wouldn't score all the games I listened to on the radio, but I was wrong in that prediction. I scored every game I watched or listened to, except for certain ones — for example those I heard while driving in a car when it is not recommended one try to write at the same time.
I've modified not only the layout of my scorecard, but also the notations I use.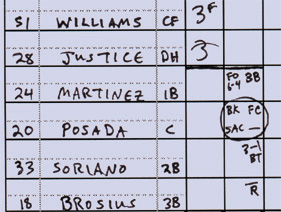 Which Corner?
First of all, I decided I prefer using the upper right hand corner of the box for first base, and the lower right corner for home plate. Most proponents of the single-line for single/double-line for a double system of scoring use the lower right corner for first, but it seems more appropriate to me my way. Why? When the batter runs to first, he goes up and toward the right side of the field, and when he comes home, he travels down and toward the right again. Also, I find it much easier to read scanning the upper corners for hits, walks, etc…
Line Out vs. Pop Out
In the old way, if a batter lined a hot shot right at the first baseman, who caught it, or if he popped up into foul territory, all I would write is a numeral 3. But given that the compelling thing about the scorecard for me is piecing together patterns in the game story, it's sometimes important to know who is hitting the ball hard, and who is off balance. In the sample above, I have Bernie Williams popping a ball into foul territory (hence the small "F") caught by the first baseman. Whereas David Justice lines out to end the inning–hence the slash of a line through the 3. If the ball was particularly hard hit, or the first baseman made a superior play (a diving catch or something), then I might also add a star.
Force Out/Fielder's Choice

In the above example, Jorge Posada came to bat with Bernie Williams on first base. Posada hit into a fielder's choice, marked FC to indicate he reached first, while Bernie was forced out at second shortstop to second baseman. There are others who would write the 6-4 in Jorge's box, but I think it makes more sense to write it at the base and with the runner that involved the play. If, on the other hand, Jorge had grounded to second and been thrown out at first, with Bernie advancing to second, I would merely put a dot in the second base position in Bernie's box. Maybe someday I'll come up with a way to indicate whose out he advanced on, but this is enough detail for me, for now. On the other hand if Jorge had hit into a 6-4-3 double play, I would have put that number combination in Jorge's box, and just written "DP" in Bernie's box at second base, just in case there was any question who else was out on the play.
Sacrifices
I was dissatisfied with the way it was formerly ambiguous whether some sacs were bunts or sac flies. In the sample above, Jorge Posada moved to second on a balk (BK), then took third on a sacrifice (SAC). If Soriano had hit a sac fly to center, for example, I would have scored it 8SAC in Soriano's box. But given that it was a bunt, resulting in a 3-1 play, I mark the out at first 3-1 with a "B" or "BT" to show it was a bunt.
Runs Batted In
I try to give credit where credit is due, and I'm finding it important to note which guys hit well with runners in scoring position. Scott Brosius hits a single here, and the "R" under the single line for single indicated it was an RBI single. My boyfriend goes a bit further, for example if two runs score on a hit, he write the "R" twice. That makes a bit of a mess when scoring a grand slam, though, so I settle for only marking RBI on base hits. Home runs are kind of self-evident, anyway.
In the next generation of scorecard development, I may try to add a place to note whether the first pitch of the game was a ball or strike, as well as a place to note whether the first ball on any given batter was a ball or a strike. From time to time I do mark in small letters "1P" for things like Derek Jeter's home run in the World Series last year, the one on the first pitch of the game, or "12P" for a ball hit on the twelfth pitch of an at bat. The scorecard is designed mostly to show what the batters and runners have done in the story, but what the pitchers have done along the way (not just their totals) is such an important thread I'd like to work in a way to follow it better. But that might require larger paper. Or a magnifying glass.
I'm developing other nuances in the way I score, too, for example if a runner advanced to second on a single, but then went to third on a throw to the plate, I mark the single in that runner's second base corner, and then put a "T" in the third base corner. Though I admit one little "T" or "E" often doesn't tell the story–witness my scorecard from the final game of the World Series last year, with the ball bouncing off Posada and ending up in the dugout…
Sometimes I have to settle for a series of exclamation points, when there's just no describing what the heck just happened.