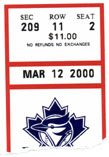 Dunedin's stadium (Grant Field) was the closest to the house of all the places we went. It was about seven miles, actually, so even though we went early to the game to see BP and fielding practice, we didn't have to leave very early. We did our best to eat up the food in the house for breakfast (since we couldn't leave any perishables), and thus fortified by scrambled eggs and bacon and toast, we went to the park at around ten a.m.
When we arrived, they weren't letting people in yet, but we could stand at a high fence (ten feet high I would guess) along where the Yankees would walk from the clubhouse to the field. I can't even remember now who we saw go along there, besides our pal Clay Bellinger, and all the coaches. A fairly old fella (I'd guess late sixties?) with a camera around his neck came up behind us and asked if we thought it was a good spot for autographs. At the time, Chambliss and a few other coaches were standing there, trying out some kind of new-fangled weight attached to a kind of bat-like handle… apparently the two guys on our side of the fence were trying to convince them to buy them or start using them with the team. A few fans asked Chambliss for an autograph and he said "Not now." We passed this word on to our elderly friend–not now, but we suspected we'd have chances inside. Julian had been to Dunedin before and had gotten something signed then.
They started letting the crowd in shortly thereafter, and we joined the then thin group at the top of the Yankee dugout to watch BP and hound for autographs. I took a ton of pictures of Jeter stretching for the teen fitness article, since they were right there along the first base line. My hands didn't shake this time.
Heather, it turned out, was the most successful at getting autographs. Where we were standing, right above the bat rack in the dugout, we could see the players up close as they came in and out. Jimmy Leyritz signed one of our balls and a whole bunch of others when he finished BP. Tim Raines, also, signed the same ball: we started calling it the "DH" ball. On the other ball, Heather got Joe Torre. Then the announcers, Michael Kaye and John Sterling (the "the-e-e-e-e-e-e Yankees win!" guy) came out, and we got them on that ball, too. Then George Steinbrenner came down to take his prime seat in the first row, and Heather ran down and got his, too, on that ball. (By the way, I've got to say Steinbrenner looked like he was in great shape. Television really isn't flattering to him at all–he looks much better in person.) Heather's was the last one he signed before saying he wanted to sit down and enjoy eating a hot dog. People seemed to respect that.
The most excitement for the fans though came when Jeter finished BP. Before he'd started, a young boy (twelve years old?) took a black bat out of a souvenir case and handed it to Jeter. Jeter took BP with the bat, and then brought it back to the kid. Talk about something special! Then one of the fans next to us told a story about how one of the Yankee coaches–I forget now if it was Don Zimmer or Mel Stottlemeyer–had Babe Ruth's autograph on his glove, and he played with that glove till it fell apart. An autograph is a talisman that proves the player is real, and maybe rubs off some of that player's magic on us. We were all pretty much in agreement that the value and worth of the autographs we got had nothing to do with the "resale value" of the items, and everything to do with how important the Yankees and these players were to us personally.
Which brings me to what happened to our third ball, which we had played catch with and scuffed up the day before. Our elderly friend from outside jokingly said he was going to stick with us, and squeezed off a lot of film there at the dugout behind us. Then he decided he wanted to try for autographs as well, after we'd gotten Torre and Leyritz. "Well, we do have this one scuffed ball…"
"I'll buy it from you, I don't care if it's scuffed," he said. "How much do you want for it?"
Now, we'd paid $6 for it at Legends Field, and we told him so. I was going to suggest five, but then he said "Here, ten dollars, that's good, right?" Sure! Julian pocketed the ten and gave him the ball. (It wasn't too badly scuffed, just a few brown streaks from the new glove.)
"Authentic Yankee fans played catch with this ball," I said to him seriously. "Yesterday, on Clearwater Beach." He beamed back at me.
I lost track of him after that and don't know if he ever did get a name onto the ball, but hey, real Yankee fans put love into that ball and that's worth something.
Meanwhile, a little girl, really young, sing-songed "Mis-ter Je-ter!" and he went to her and signed for her. This started a flurry of requests. "One at a time," he said. He signed about four more things, some balls tossed to him over the top of the dugout, and so on, before someone — I never saw exactly who in the throng — got overeager and threw a ball when he wasn't ready and hit him with it. At that point he walked away. I happened to be taking a picture at the moment: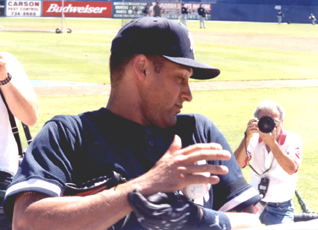 The shit that fan took for having ruined it for everybody was quite intense. "You don't deserve to be a Yankee fan!" someone shouted. "You're giving new Yorkers a bad name!" said someone else (though it prompted laughs from the rest of us). "You don't deserve to be from New York!" came another. The ball that had been thrown had rolled onto the field–we could see the Yankee logo on it. "Jeter's great, he would have signed for everybody!" said another fan, who had caught Jeter before the exhibition games had started, during one of those afternoons when he really did sign for everybody hanging around Legends Field. I think they were probably a bit optimistic about how many he could have done that day–he went out to fielding practice after that–but still, the bitterness was in the air. When John Sterling came out, someone asked for the ball laying on the field. Sterling went to pick it up and other fans yelled at him to leave it there. "Folks, I can't get in the middle of this," he said, and gave the ball to some girls on the side (not the fans who threw it, I think–maybe just Jeter fans who wanted it because it had touched him.)
Then the people whose seats we were actually standing in (Blue Jays fans by the acrimonious attitude they gave us) came, and the party at the dugout was essentially broken up.
The game itself would have been a close game, if you toss out the first inning, when ten runs scored, all off poor Ed Yarnall. Here he is, already has two major league wins under his belt from last year, and they want him to take Hideki Irabu's spot in the rotation, and he has already been scratched from a start for a back spasm. It's spring training, they want to see what he'll do, so they left him in for the whole inning, even after a three run homer by Segui and then a two run homer by Cruz. Raul Mondesi, in his second time up in the inning hit a grand slam. Yarnall struck out none and walked one. I saw in an Associated Press report later that he said "I stunk." Yarnall threw fifty two pitches. And to think that in Cone's perfect game it only took 88 pitches… (Meanwhile, in another game, star pitcher Randy Johnson faced eleven batters and didn't retire any of them, apparently, before being pulled from the mound. So cheer up, Ed, it could be even worse, and he's a big league pitcher!)
After that, rising star Jake Westbrook came up again, and pitched four innings. Knoblauch and Jeter were doing their jobs as the #1 and #2 hitters, hitting singles and doubles in both the first and third, but our possible future DHs weren't cleaning up. In the first Raines struck out and the Leyritz hit into a double play. In the third there were already two ground outs before Knobby got on and Jeter scored him with an RBI double, but then Raines grounded out. Blue Jays pitching was fairly solid– David "Boomer" Wells pitched only the first (just to razz the Yanks a little, I think), and Halladay struck out four over three innings, holding the Yanks to only one hit. So really nothing of note happened until the 9th, when Ricky Ledee walked (for the second time that game), and scored when Luke Wilcox singled. Then Julio Mosquera reached first when Wilcox was out at second on a fielder's choice, and went home when Clay Bellinger (who we really root for now) hit an RBI double. Still, three runs didn't match the Phillies fourteen, and we were back in Winter Haven mode again. The Yanks brought Mike Stanton in to stanch the bleeding and he struck out two of three in the ninth.
If you're wondering who Luke Wilcox is we don't know, only that he seems like a very nice guy. When I had been in the dugout in Clearwater, he'd come in from the field, and Joe Torre called him over and asked him if that was a can of smokeless tobacco in his back pocket. Wilcox allowed as how it was. Torre discouraged him from taking a pinch while on the field and told him to "Keep it pushed down in there. We don't want to send the kids the wrong message." "It won't happen again, Mr. Torre," Wilcox said. Boy, times sure have changed, haven't they?
On the way out, we joined the throng of fans at the fence once again. Tony Cloninger, bullpen coach–who holds the distinction of being the only pitcher to have hit for 9 RBIs in a single game, including two grand slams, back in 1966 when he was with the Braves–signed my program. Several rookies and prospects signed for people also, though I didn't catch any of them, and Clay Bellinger was friendly again. We waved to the buses as they pulled out.
After we left Dunedin, we went to Wal-Mart to buy gloves for Julian and corwin, and an actual non-commemorative baseball to play with. "You know what I like about being an adult?" corwin said, as we were in line to pay for the gloves. "If I want a baseball glove, I don't have to ask anyone's permission for one. I can just buy one for myself." He bought the Andy Pettitte model, but given how many times he threw the ball away, we started calling him "Chuck."
We went from there to the beach near the house, really just a strip of sand and a grassy park maintained by the small town we were in. A sign on the beach said "This is our front yard, please treat it like it's yours." A wedding was just letting out of the little chapel there, the wedding party posing for photos in the late afternoon light.
We began to toss the ball. The two guys stood facing me on the strip of grass and I alternated who I threw to. Seagulls cried and the Gulf of Mexico lapped at the shore. We stood further apart than the day before, and threw harder now that everyone had gloves. We missed more often as a result, but it didn't matter. It turns out I don't "throw like a girl." Julian and I switched places then. Cars began to pull up along the edge of the park where people come to watch the sun set every night. The sun dipped lower toward the horizon.
"Who are they playing tomorrow?" Julian asked.
"I don't know," I admitted. "Jul, you do realize we're going home tomorrow."
He tossed the ball back without saying anything.
I caught it and heaved it back. "I know, I can't believe we're not going to just get up tomorrow and drive to another ball park and do it all over again."
corwin caught the next one. "They say it was thirty degrees in Boston on Saturday night, and it sleeted."
We all shivered, corwin threw the ball away, and as Julian ran to catch it, Heather pulled up in the rental car to get us. We had another delicious gourmet meal ahead of us that night, but less than twelve hours later, the sky still dark, we'd be on the way to the airport. But let's not talk about that. The sky was still blue, the sun was setting like a ball of fire into the Gulf, and our arms were finally getting tired. As we walked to the car corwin said "okay, maybe you've convinced me." Of what? I asked him. "That maybe it would be fun to play in a baseball league of some kind." An idea I'd planted back in the deepest darkest winter, when our baseball withdrawal had been the worst. I guess it took the sun to make the seed sprout…
And now I'm back in Boston, and it's cold here (today it's snowing again and wet and miserable…), and it seems impossible that down there, games are going on without us to watch. That if we got on a plane right now, we could be back in that baseball equivalent of Margaritaville within three hours. You know, I'm tempted. But there are bills to be paid, deadlines to be met… and there's always next year.