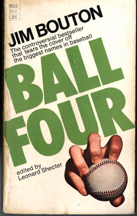 What do you mean you haven't read Ball Four, the original baseball "tell-all" book by Jim Bouton?
Okay, okay, I hadn't read it either, until recently. I was a kid when it came out, young enough that I still had to be held by the hand by my Dad as we walked through Yankee Stadium. I don't even think my brother was even born yet when the book was first published. But he's the one who found a dog-eared old paperback in the basement of my parents' house, and appropriated it to read.
He brought it with him to Spring Training to pass on to me. I started reading it while we were on our trip to Florida, but I was too tried most nights to read more than a few pages before we conked out.
After returning to the frozen north (today's April 26th as I write this and we had SNOW in Boston today… not kidding), I zipped through it in a matter of days. At first, all I could say was: Wow.
This is a book that has it all. An observant and funny narrator (Bouton), a fascinating milieu (major league baseball), and a suspenseful plot (as Bouton tries to make a comeback to the bigs after ruining his arm by turning to the knuckleball). And the New York Yankees.
Now you would think as a Yankee fan, that I would find the book sacrilegious. Bouton reams Ralph Houk and the Yankee management for ruining his health with bad coaching, exposes Mickey Mantle as a mean-hearted drunk, and harbors fantasies of beating his former team in a pennant matchup. But it's yet more proof that the Yankees are the sun around which the baseball universe rotates, or has since the days of Ruth, anyway.
I found every page of the book to be enjoyable. I suppose the book was a serious shock when it first came out. For example, Bouton details major league player hijinks like the regular and constant practice of trying to see up women's dresses ("beaver hunting"), rampant drug use/abuse, groupie sex, and cruel pranks played on rookies. For those fans who had believed baseball players to be squeaky clean model citizens, the book must have hit like a mud pie in the face.
Then again, look at how many people get their righteous indignation up whenever a player doesn't live up to that image today. John Rocker is a racist ignoramus? Say it ain't so! Yeah, we have to try to 'rehabilitate' Rocker, help him change and grow, but are we really shocked that he's in ML baseball the first place? We oughtn't be. Sticking with the Braves now, how about Chipper Jones' adultery, admitted in late 1998? Lotta people just don't want to hear about it. Fans have stuck by him mostly by trying to ignore it, while restaurant chain Wendy's revoked their endorsement deal with him. When the question of Bernie Williams' off-field relationships with the ladies was raised in the Yankee Fan Forum at yankees.com, many fans expressed sadness and anger at the gossip and rumors, saying they wish they had never even looked into the topic. They didn't want to hear it at all.
Yes, we do want our heroes heroic, moral, righteous, and clean. The same could be said of the soldiers and generals who fight in a war, or of the leaders we respect. But this is the year 2000. Knowing of their excesses in love, drugs, or life haven't really diminished the legends of Elvis, John F. Kennedy, or many other figures. Why should baseball players be any different? Babe Ruth was not a squeaky clean fella.
One of the true charms of "Ball Four" is that Bouton exposes it all from the inside, from the perspective of a player who isn't out to smear the game, but who wants to tell it like it is. Readers are treated to Bouton's insights into the strategy of the game, the experience of pitching, the camaraderie of a team, the tough realities of the life on the road, being traded, and negotiating contracts before free agency, a strong players union, or other "modern" innovations players have today. It's not all dirty jokes and complaining. Bouton has a biting wit but also real affection for the people around him.
Yankee fans will be tickled to see cameos in the book by the rookie Lou Piniella, Joe Torre, Mel Stottlemyre, and others who cross Bouton's path as he recounts the season from trying to make the team in spring training camp with the expansion Seattle Pilots, through the long season. Many other greats also appear.
In 1990, a 20th anniversary edition of the book was published, and is still in print, plus old copies of the original bestselling book can be had anywhere from $3 to $25 at used bookstores (check out www.bibliofind.com to mail order it through the site from a used bookstore at the price you prefer…). There was also a second edition, called "Ball Four, Plus Ball Five: 1970-1980" but I haven't read that. Bouton's adventures did continue beyond the end of the book, though, including some interesting factoids:
In 1970, Baseball Commissioner Bowie Kuhn has the nerve to ask Bouton to sign a statement saying "Ball Four" is a lie. Bouton declines.
In 1976, Ball Four is made into a tv show. It lasts five episodes. Said Bouton; "We wanted Ball Four, the TV show, to be like M.A.S.H., only in a locker room. Instead it turned out more like Gilligan's Island in baseball suits."
1978, Bouton makes a comeback with the Altanta Braves! Also invents "Big League Chew" with teammate Rob Nelson, so they can have something to chew besides tobacco. This is especially funny given how many guys you see chewing gum in dugouts today…
1998, Bouton appears at the NY Yankees Old Timers Game, after a Father's Day piece in the New York Times by his son Michael asks the Yanks to forgive him. Bouton is warmly received by the 50,000+ crowd.
Anyway, you won't be sorry you read this book. Even if you're one of those people who likes to keep illusions, just remember it was all a long time ago, and keep telling yourself it's not like that now. But I wouldn't miss this extremely funny, often touching, story of the human beings in baseball and the inside of the game. After twenty years, it's still worth reading.