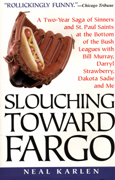 So, the other night, while sitting in the stands in the freezing cold wind of Yankee Stadium's upper deck, my brother gave me my birthday present, lovingly wrapped in a page of the sports section of the local paper with Ken Griffey, Jr. photo large on it. (I couldn't help but say, as I ripped the paper to shreds: "Omigod, I killed Kenny!") It was just a coincidence that that night's game was near my birthday and that I happened to be in NYC.
Julian, ever the thoughtful brother, bought me a copy of the Major League Rule Book, which I have already used twice, and also another baseball-related book, "Slouching Toward Fargo" by Neal Karlen. The subtitle of the book tells it all: "A Two-Year Saga of Sinners and St. Paul Saints at the Bottom of the Bush Leagues With Bill Murray, Darryl Strawberry, Dakota Sadie, and Me."
You see, there's this kinda zany baseball promoter named Mike Veeck, son of the late, esteemed Bill Veeck, who had once owned the St. Louis Browns, among other teams, and who was called "the greatest showman in baseball." The younger Veeck got blackballed from the game when both Veecks were with the Chicago White Sox, and Mike arranged the infamous "Disco Demolition Night"–which resulted in a riot, torn up field, and a forfeited game. Veeck's only route back to The Show, like the many desperate, end-of-the-line players he would hire, was through the independent bush leagues, not part of "organized baseball."
Veeck, the promotion genius, followed the credo "Fun Is Good," and turned the St. Paul Saints of St. Paul Minnesota into not only a winning team, but a team that sold out its 6300+ stadium for every single game for years with wacky promotions and a cast of characters including Bill Murray (of Saturday Night Live fame), a benedictine nun who gave backrubs and advice for broken hearts in the stands, a blind radio announcer, the first woman to pitch professional men's baseball (Ila Borders), and Darryl Strawberry, who in 1996 was suffering his own first blackball from organized baseball.
We Yankee fans already know how the Strawberry saga turned, how Straw kept his hopes up while playing with the Saints, kept in shape, and then got a ticket back to the Show courtesy of George Steinbrenner, how he then grew into a team leader and helped the team win its first World Series in many years. And we also know how, in 2000, he's back on the skids. But it was an inspiring story while it lasted.
"Slouching Toward Fargo" tells a host of other last-chance for redemption stories associated with the Saints, all of them fascinating, intriguing, and uplifting, except for one, the author's own. Neal Karlen, you see, had been offered large wads of money by Rolling Stone magazine to follow the Saints in order to do a "hatchet" piece (an ultra-negative expose) on Bill Murray, Darryl Strawberry, and anyone else who might take a sordid fall in the backwoods of the bush league. But Karlen immediately finds himself in a moral quandary. He needs the money, and he used to thrive on that sort of work, but now he's left the big city behind and moved back to his home in Minneapolis, and even though his heart was broken recently by a baseball-loving bitch, he really, truly, likes the St. Paul Saints and their wacky ways…
Karlen spends most of the year following the Saints and all these many worthy characters, but he is too distracted by his own angst and conflicted feelings to either report effectively or focus on the drama going on on the field. The book's main strengths turn out to be the other characters in the book, who are well-worth reading about, and even Karlen's failings can't disguise what one-of-a-kind people these are. Karlen's own journey to redemption is interesting, but not interesting enough to put up with his sloppy editing (sometimes the Madison team is the "BlackWolf" all one word, the "Black Wolf" two words, and once the "Black Wolves") and his penchant for repeating the same anecdotes and descriptions multiple times, while seeming to leave out crucial information. I wanted to see more of the actual on field play and details of the Saints pennant race, for example, and less of the authors' handwringing about whether he would, or would not, write the hatchet piece. God knows that, as I baseball writer, my baseball journals prove that I write about myself as much or more than I write about the game, so perhaps I should not cast stones. But I craved more BASEBALL in "Slouching Toward Fargo."
I recommend the book to anyone, though, who wants a peek at the bush leagues and the especially wild and zany Saints. Yankee fans will be curious to see Straw it his then-lowest, along with cameos by players like Chuck Knoblauch (who was then still with the Twins). Perhaps if the book had just been a tad more focused and better edited, I would have sailed through it smoothly–but being a professional writer and editor myself, maybe I am too picky. There is much to treasure about the people and places Karlen uncovers, and any fan of the grand old game should enjoy discovering them, despite the book's many failings.