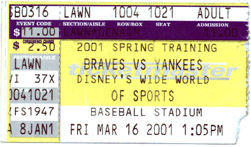 Green as I may be in the world of baseball, I'm not a rookie anymore. This is my second trip to spring training, so I knew a little of what to expect. And even though I had never been to see the Atlanta Braves play before, I found myself on familiar ground.
The Disney Wide World of Sports complex is–like all things Disney–shiny, well-groomed, efficient, beautiful to see, but just a tad fake. This isn't a bad thing, really, if you buy into the whole Disney "experience," where every detail is taken care of, leaving no room for the mess or complication of real life to interfere. It's why Walt Disney World is such a great place for a vacation. At Wide World of Sports there is the same kind of "faux" charm as there is on the Magic Kingdom's Main Street USA, where all the buildings are made to look like an old main street around 1900, but you know they were built in 1970. For example, the scoreboard in left center is a manual one, like the old one in the Green Monster at Fenway Park. Meanwhile, over in right is a state of the art Diamond Vision screen like you find in just about all modern ballparks.
The Braves fit in well at Disney, which is as you'd expect for a team owned by a media mogul. They are corporate, professional, almost predictable–a baseball entertainment machine second only to the Yankees. Of course, it is this polish of consistency which has taken all the drama out of Braves baseball and resulted in last year's two utter failures of the postseason. One is, of course, the way the Braves found themselves swept in the Division Series, and the other the way their fans were caught flat-footed, not even selling out the Division Series games in expectation of an NLCS (and maybe World Series) that never came.
The Braves have no trouble selling out at Wide World of Sports, though. I bought my tickets by phone within minutes of them having gone on sale, and could only get "lawn" seats. I'm glad I didn't wait; at the time tickets went on sale, I was in the Detroit airport, on my way to a trade show in Vegas, waiting to change planes. If I'd been on a non-stop and waited until I touched down in Nevada, forget it. And it doesn't matter which team you are trying to see, Braves, Red Sox, Blue Jays, the games against the Yankees always sell out first.
I had been to Wide World of Sports once before, in 1999. During our family vacation to Disney that year, my boyfriend corwin and I went there to watch Game 3 of the World Series at the All-Star Sports Cafe. (Read all about it.) Giant screen TVs everywhere, waitress service, a disk-jockey, and No Commercials (because they get the game on a direct feed). Hard to beat. That was the game where Andy Pettitte was having a rough night, and it looked like the Braves might win a game. Jason Grimsley was the hero on the mound, though, and Chad Curtis hit two home runs. I believe the expression I'm looking for is: sweet.
This time it was daytime, dark clouds were threatening us with rain, and the Braves were live on the field.
I had been so focused in the winter on seeing the Yankees again, that even when I bought the tickets, it hadn't quite sunk in that I'd bee seeing the Braves. After all the epic World Series battles of the nineties, it didn't seem possible that I'd never seen them live. But as we settled ourselves onto the perfectly manicured slope of green grass, right at third base, I realized I never had seen the Braves before. I actually got excited to see John Smoltz pitch.
I like Smoltsie a lot. I think he's a good pitcher, who has a lot of respect for his opponents and the game, and so I have a lot of respect for him. Come to think of it, I really like Maddux and Glavine, too. It's just too bad they're in Atlanta, where they have to share a bullpen with John Rocker.
But much as I like John Smoltz, and was psyched to see him pitch, I was even more psyched when the Yankees started hitting him in the third inning. Especially since Adrian Hernandez, the Yankees highly-touted Cuban-defector pitching prospect had just come unraveled in the bottom of the second. But now I'm getting ahead of myself.
We arrived with the help of a trusty rental car and Mapquest, bought a scorecard, and went about finding our "seats." Turns out the "lawn" at the Wide World of Sports baseball stadium extends from third base all the way around the corner of left field. Other people had brought blankets and beach towels to stake out their territory. It wasn't crowded yet and we laid our jackets out on the slope of putting-green perfect grass right near third base. The Yankees were just taking the field for batting practice, and I was happy to see that many of the starters had made the bus trip to Orlando. One of the many criticisms leveled at George Steinbrenner is that he cares too much about these meaningless spring matchups, but I couldn't say I was sorry to see most of the regulars out there. I was amazed to see Paul O'Neill not only hopping around like a spring chicken, but he even autographed for about a dozen kids that morning.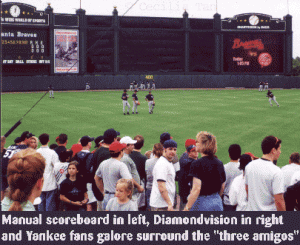 At one point after they were done with their BP, the three infielders, Tino, Chuck, and Derek, ended up in a clump near second base. I can't tell you what they were talking about, but they were laughing their heads off. Then Don Zimmer came over, leaned on his fungo bat, and told them something that made Chuck laugh so hard I thought if it went on any longer he was going to fall down and roll around in the grass. It was something you didn't see much of last year–Knoblauch smiling, much less laughing. Tino looked relaxed and I must say quite svelte after his winter conditioning program that had him drop 22 pounds of bulk. The three of them cracked each other up for a good twenty minutes out there, a sight you'll only see in spring training.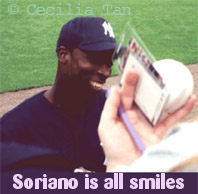 Another player who smiled much more this year than last was Alfonso Soriano. He looked like a different man. Last year, he slumped around and looked dazed in the field. This year he leads the Yankees in hits, and between the smile on his face, the spring in his step, and the confidence in his carriage, it's hard to believe he's the same rookie who was so brick-handed in the field during his call-ups last year. Well, I guess he's not. A year at Columbus has really seasoned him. Soriano's white teeth shine brilliantly in his dark face, like the sun cutting through rain clouds.
Alfonso Soriano Is All SmilesSpeaking of which, that's exactly what happened a few minutes before the first pitch. The thunderstorms that had been predicted never materialized, and a hot midday sun burned through the clouds and onto our not-yet-sunblocked skin. I knew the moment it got sunny that I should go to the gift shop and buy sunblock. But I was about to see the first live baseball I'd seen since September, and I didn't want to miss a single second of it. So I foolishly waited until after the first inning was over. As it turned out, this wasn't so bad for me, but corwin got fried to a crisp in that brief half hour of midday exposure. Also, we discovered that cheap as spring training may seem ($10 ticket prices, $2 hot dogs, etc…), at Disney, a small bottle of piddly SPF-15 sunblock is still TEN BUCKS. Ouch.
Now, I know these games don't count for anything; the spring is time for pitchers to be working on new pitches and for batters to be trying to regain their form. But as a spectator, you can't help but be excited when your team scores and bummed when the other team does the same. I found myself less caught up in that this year than last year–a trick George Steinbrenner also seems to be learning, as I read many fewer news stories about his temper this spring. You watch these games for what you can see and what you can learn, not for their outcome.
What I saw that day was that Adrian Hernandez is not quite ready to face the Braves. They had Andruw and Chipper Jones, Brian Jordan, and some newer guys to the team, like Kurt Abbot, playing. The regular Yankee infield of Tino, Chuck, and Derek were all in the game, with yet another hot Cuban defector, Andy Morales, at third base. Morales did what he could to help Hernandez with a very nice pick in the first at bat of the game. There wasn't anything he could do about Travis Wilson's two-run triple, though, Paul Bako's sac fly immediately after, or Kurt Abbott's home run that lead off the third.
They took Hernandez out after three and replaced him with Randy Keisler. Two innings, five hits, and three runs later, he too was gone and had prompted the comment from me "He's just pitched himself back to Columbus." Sure enough, the next day in the paper I read that he'd been sent to minor league camp.
I'm somewhat sad to admit that of the twelve pitchers used in the game (six by each team) that the only one whose line in the box score looks any good is John Rocker. As soon as the bullpen door opened and Rocker began his run across the field (he just trots in spring training, he doesn't sprint like he does in the regular season) the crowd began to boo. There were loud cheers, too. It was hard to tell if only Yankees fans were booing Rocker, but I don't think so. What the box score doesn't show is that of the three outs Rocker recorded, the first two were very hard-hit balls, line drives that were both miraculously caught at third by Keith Lockhart (who had replaced Chipper in the field). Then Scott Seabol smacked one that finally went through, but he was caught stealing to end the inning.
Jeter had an RBI single and scored on Paul O'Neill double, then was taken out of the game. We figured at the time that it was because he'd done enough and they wanted to give Soriano a look in the field, but it turned out to be something worse. Poor Derek. Here he's just signed this massive contract, had a media fight with his buddy A-rod, and first he gets a stiff shoulder, then tonsillitis, and then, as we'd read in the paper the next day, he strains his quadriceps somehow.
Knobby had a perfectly fine day in the field, but only had to make one throw to first, on a double play that ended the first inning. After he saw pretty much no action for several innings, Carlos Garcia took his place in the fifth. I can't help but notice that Garcia recorded four put-outs at first after that, including all three outs in the seventh. And he hit two home runs. You have to wonder how or if anything would have been different with Chuck in there.
Going into the top of the ninth, we trailed 8-7. But a three hit rally of Jimenez-Perez-Morales meant we lead 9-8 in the bottom of the ninth. Now here's something else you'll only see in the Spring–Joe call on an untested nobody to protect a one run lead. Kevin Lovingier, about whom I know absolutely nothing, came in to get the save.
If it were a regular season game we would have cried about what happened next. Lovingier recorded one out, a ground ball to first. He walked the next batter, a fellow named Robert Rivera. Next guy got a hit moving Rivera to second. Next guy popped out to first. So, okay, you think. One more out and we win, right? Well, with two strikes on the next batter (I think it was Jesse Lewis but it's hard to tell with all the substitutions…), Lovingier hit him with a pitch to load the bases. Argh. Still, you think, well, just one out and we're out of it right? Fly ball, ground ball, shouldn't matter. But even the second and third string guys who were in the lineup by then can see when a pitcher is throwing wild. Next guy took a walk to force in the run! Tie game. Lovingier did get the next guy out, but so what? A blown save, and on only one lousy hit.
The tenth didn't produce any revelations, other than the one that said maybe we should have brought David Lee in sooner. Although Soriano made his one bad play of the game to put a man on, Lee induced a ground out and struck out two. I thought it was a pretty good performance, if too little, too late, but I just heard today that Lee's been traded for another pitcher, so I guess the Yankees didn't like what they saw in his other outings.
Joe Torre and Bobby Cox agreed to call it a tie after ten innings, even though the fans wanted more. I knew we still had Randy Choate in the bullpen and would have loved to see him get a win. But I guess Joe decided he didn't want the Braves to see Randy's stuff before October, and instead called the game.
I wasn't really sure how to feel about a tie. I mean, on the one hand, that means no one gets the loss, right? And we did beat them in the Hits column, 20-14. And thanks to the hordes of rabid Yankees fans like myself, that days attendance was a new record for Wide World of Sports, with 10,836 at the game. During the Lovingier meltdown I got to talking with two older fellas nearby, one of whom was keeping a scorecard even more detailed than mine. "Were you guys in Winter Haven to see that game against the Indians last year?" I asked.
"We go to all the games," one said.
"Yeah, you told me that last year," I answered."You were sitting right behind me, my brother, and my Dad."
"In the bleachers, yeah, they were the only seats we could get."
"Just like here." By the way, if I haven't mentioned it yet, the wonderful thing about the lawn at Wide World of Sports is that, well, where else can you be lying down while watching major league level play taking place before your very eyes? On the other hand, the lawn is kind of hard on the calves and ankles, since your feet are canted at an angle for the whole game.
Anyway, they were, in fact, the same two guys I'd seen last year in Winter Haven, and the ones who got me thinking, hmm, just what would it take to plan to see ALL the games some spring? In my case, it's probably going to take retirement, so I can only hope to retire early.
The only other two things this game brought to mind were hey, wasn't that Felix Jose wearing number 13? And gee, if everyone knows that Glenallen Hill can wallop any fastball 500 feet, but can't hit a curve, then how will the Yankees handle the fact that no one will throw him anything but curves? And how come, if there's supposed to be so much less lag time between innings in ST (no TV commercials), they always go twice through "Take Me Out to the Ballgame" in the seventh inning stretch, instead of just once? Answers to these questions and many more coming tomorrow.