This year's SABR convention was in New York, which was awesome for me, given how many of my research interests are New York-centric. It meant that I didn't have to "pick out" all the Yankees-related topics to go see because there were so many. (Unrelated but cool: There were also so many women presenting and speaking that I didn't feel compelled to prioritize them. How excellent.) The Yankees were out of town, but you could hardly tell there was so much Yankees talk.
I learned a lot at this convention but I figured as a wrapup I could basically write a lineup card of things I learned about New York teams and players that I didn't know before.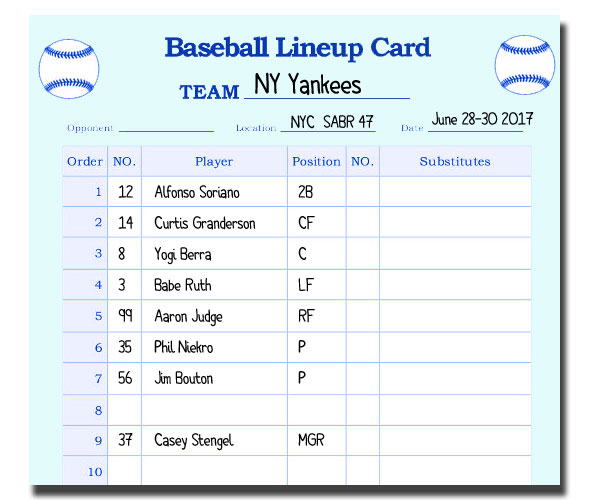 Alfonso Soriano
I had vaguely known that Jean Afterman, one of the few women at a high front office position in MLB, was instrumental in bringing Hideki Matsui to the Yankees, and I had vaguely known that there were some shenanigans involving Alfonso Soriano going to play in Japan first before being signed by the Yankees. What I didn't know is that Jean Afterman was not only involved in both of those Yankees signing, she was the person basically responsible for opening the floodgates of Japanese talent to come to the U.S. overall. Here's the story:

Jean Afterman grew up in the Bay Area as a Giants fan, and was in her thirties working a kind of dead-end job in the sports-entertainment biz in Los Angeles when someone suggested she try something different. "A guy I worked with said, 'you just seem too smart for what you're doing,' which was logging pitches on video and writing down the number of them and things like that. 'Why don't you go to law school?'" She took the LSAT and thought okay, now I'll be a big-time entertainment lawyer.
But that's not what happened. One day in her not-so-big law firm a fellow walked in with an intellectual property infringement case. He held the rights to Japanese baseball cards in the US and someone was pirating them. She took the case not thinking it would be huge but, as she explained in her interview session at the SABR convention, "All I knew is I'd get a free trip to Japan." This was how she met Don Nomura, the man who was to become her business partner. "So I went over there and they took me to a Yomiuri Giants game. And it was great. The players seemed so talented. And I naively asked 'why are there none of these players in American baseball?'"
Don explained there was a deal between MLB and the Japanese leagues (NPB) to prevent Japanese players from playing in MLB. "Well, like any newly minted lawyer, I was like 'that is not right, we should fight that! Restraint of trade! Hrrumph!'" As it turned out, the time was ripe to get involved in such a thing. Don had many contacts in Japanese baseball and Jean and he were soon in touch with Hideo Nomo. They found a loophole to get him to the U.S. and his debut was at Candlestick Park, Jean's old stomping ground.
There was also Hideki Irabu, who had been sold to the San Diego Padres without his permission, and who said he would only go to the Yankees. Jean was the one who negotiated with Steinbrenner and the Yankees–and the one who would get the phone calls during Irabu's rocky career with the Yankees from Brian Cashman about whatever Irabu had most recently done wrong.
Then came Alfonso Soriano, who had gone to play in Japan. "By then both commissioners had started to notice what we were doing," Jean told the audience. But there was a loophole to free Soriano, too. It was considered not being loyal to one's team to ask for more money, thus Japanese players almost never went to arbitration. "If you lost your salary arbitration case in Japanese baseball the 'punitive' action was you were 'voluntarily' retired from Japanese baseball," she explained. "Which meant you could sign in another country. Since I was a foreigner I was not allowed in the room during Soriano's arbitration case, but Don was. This was in the days of faxes and I was waiting for the fax to come through verrrry slowly–
cht-cht-cht-cht
–and as soon as I saw the words 'Dear Mister Afterman' I knew we had got him."
By then Jean had gotten to know George Steinbrenner. "The Japanese league wrote to all thirty US clubs saying, 'if you sign him, we'll sue you.' That was like waving a red flag at George Steinbrenner. George was ready to go to war. But he wanted to know for sure Soriano was absolutely a free agent. I assured him he was. The baseball players union got involved because as long as one club was interested, they could. Cleveland, Baltimore, and the Yankees were interested. The Yankees ended up signing him and not being sued."
Jean was being interviewed, by the way, by Claire Smith, this year's J.G. Taylor Spink award winner. More on her later.
All the tough negotiations with George Steinbrenner won Jean the respect of the Yankees owner and caught the attention of GM Brian Cashman, who got the idea to bring her into the Yankees front office. Claire asked, "How unusual is it for an agent to jump to the other side?"
"There was one other agent who jumped to the other side but he bought a team," Jean said. (I think she means Arn Tellem who bought the Detroit Pistons.) Sixteen years ago she got the call from Cashman asking her to join the Yankees. "In the old days of answering machines, you'd walk in and the little light would be blinking. I come home and there's Brian's voice on the machine, 'I just had a thought, just reaching out, give me a call' and that was exactly the kind of message I would get when Irabu had misbehaved. 'Hi Jean, just reaching out, give me a call.' So I called back wondering what could be wrong and he said, 'Oh, I was on a flight from Tampa and I saw a woman who reminded me of you and…' he asked if I wanted to come work for the Yankees. I never asked what it was about the woman that made him think of me."
Jean has been with the Yankees 16 years. Since Nomo crossed the Pacific to play in MLB, over 50 Japanese players have followed, 12 of them All-Stars (including Nomo). The Yankees are lucky to have cornered her fire, smarts, and talent.
Curtis Granderson
Once upon a time, the ballgame that the SABR convention attended en masse was in Arizona, and they witnessed a no-hitter. I wasn't at that one. This time we were at Citi Field, where the Mets graciously hosted us with a program of speakers before the game, including their broadcasting team, a group of stats guys from their front office, and GM Sandy Alderson.
Alderson was fascinating, and got one of the best laughs of the day when he was asked if he had heard that the Braves had cut Bartolo Colon. His reply, "Yes, and I can't comment on club interest but I have called them to ask if we can have all his surplus bobbleheads."
One of the broadcasters–I'm not sure which one because the three of them look and sound somewhat alike but it was either Josh Lewin, Steve Gelbs, or Wayne Randazzo–told us a story about Curtis Granderson. (See Tweet from @phungo2008 below confirming it was Gelbs. Thanks!) Granderson was trying to learn to use his speed better and was working on the butcher boy–a batting technique where you chop the ball into the ground and try to beat it out almost like a bunt. With a runner on first, he went to the plate looking to move the runner over and possibly reach base with the butcher boy. He failed. He hit a two-run home run. He was then beating himself up in the dugout for failing to do what he set out to do. This prompted a coach to tell him what he really needed to work on: having more fun. This is why under the bill of Curtis Granderson's cap he has written "Don't Think, Have Fun."
Unfortunately this mentality didn't help his eyesight during the SABR game. Jacob DeGrom had given up no hits through 4 and 2/3 innings. Five no-hit innings is an unofficial threshhold for starting to hope for an actual no-hitter. But a routine fly ball to center was lost in the evening sky. Granderson spread his hands like "I don't see it." Even though Cespedes raced over from left, he couldn't stop it from falling untouched to the grass about twenty feet behind Granderson. The definition of a hit. Ah well. It was a lovely night at Citi Field anyway, and thank you to the Mets for being such fantastic hosts.
It was Gelbs that told the Granderson anecdote. He repeated the story on air during the game – shortly after the lost fly ball in the 5th.

— phungo (@phungo2008) July 4, 2017
Yogi Berra
One of the panels was on Yogi Berra and his legacy, not just as a ballplayer but as a national icon. On the panel we had not only Lindsay Berra–Yogi's granddaughter and a writer for MLB.com and correspondent for the MLB Network–but also writers Harvey Araton (Driving Mr. Yogi) and George Vecsey (Baseball: A History of America's Game), and the panel was moderated by Dave Kaplan, the former director of the Yogi Berra Museum and co-author with Yogi of When You Come to a Fork in the Road, Take It.
We heard a lot about the life and times of Yogi, but especially about how he morphed from lovable clown into sage wise man of his elder years, a kind of folk wisdom guru in the eyes of America. And there was plenty of that, including this from Harvey Araton: "At one point [in the interviews for the book Driving Mr. Yogi] Guidry said 'he's the most beloved man in America.' I thought, I can't put that in. At first that sounds like too much of a cliché. But when I was going over the transcripts later I was thinking, this is such a polarized time. If people love one thing, other people hate it. There's no common ground. 60% of people think LeBron is great, that means the other 40% think he's horrible. But you would have had trouble finding anyone in the United Stated who didn't love Yogi Berra. It's very difficult sometimes to be universally loved. But what Guidry said wasn't a cliché. It was really true."
Lindsay Berra had many stories that humanized Yogi for us–or maybe which demonstrated the way that Yogi humanized himself all the time, with everyone. He was completely pragmatic, down to earth, and not judgmental about anything except the few things that offended his moral compass. It didn't offend him that he was approached by Athlete Allies to speak in support of LGBTQ+ athletes. All he wanted to know was "Can they play? They should play." As his wife Carmen Berra added, "It's 2013. People need to get with the program."
What did offend him was that George Steinbrenner sent the pitching coach to fire him 16 games into the season instead of doing it himself. This began Yogi's self-imposed exile from Yankee Stadium. Lindsay talked about being terrified to ask Yogi about whether she could go to a game at Yankee Stadium years later.
Lindsay: I was eight when he was fired. I didn't go to the Stadium until I was in high school. A friend of mine had tickets and was like do you want to go? I was terrified to ask Yogi about whether I could. I finally did and he said, "Why not? You ain't got no beef with George."
Lindsay: Yogi also really embraced Jackie Robinson. He saw you were a good teammate or athlete. Rachel Robinson and he remained great friends after Jackie's death and she was at his 90th birthday. Every time they saw each other, she would walk in and say "safe!" and Yogi would say "out!" and then they would hug and kiss. And she and I still do that sometimes.
(Referring of course to the Robinson steal of home in the 1955 World Series. See it here: http://m.mlb.com/video/v9336883/1955-ws-gm-1-robinson-steals-home)
She also talked about being the only Berra in the phone book in Montclair with a listed number resulting in some interesting wrong numbers. "One time I picked it up and someone said, hello, Carmen? And I had to say, no, this is Lindsay, I'm her granddaughter. 'Well, this is Virgil "Fire" Trucks.' So of course once I realized I had Virgil "Fire" Trucks on the phone I had to ask him, before I gave him Yogi and Carmen's number, to tell me all about pitching in the [1945] World Series."
Lindsay's a pretty pragmatic, down-to-earth Berra herself.
Never got around to posting this photo of me and @lindsayberra from #sabr47 yesterday! pic.twitter.com/Lt1Xq49kmz

— cecilia tan wilbb (@whyilikebb) July 2, 2017
Babe Ruth
You'd think I already know everything I could ever want to know about Babe Ruth. But like Yogi Berra, Ruth transcended baseball and became a figure in the American imagination. And unlike so many of the great athletes of the early 20th century who were American fixtures, but whose names and stories are being forgotten by 21st century culture at large–Jim Thorpe, anyone?–Ruth endures. I've long argued that Ruth is a patron saint in our national secular religion, a folk hero on par with Paul Bunyan and Johnny Appleseed.
And here's a bit more proof of that. Leila Dunbar gave a fascinating and informative presentation on the valuation of baseball memorabilia. She's an appraiser who used to work with Antiques Roadshow and is now an independent consultant. She walked us through the rubric of criteria used to assign value to an item as well as the different types of valuations: is it for an insurance company after an item has been damaged or lost? for an auction house prior to sale? for an estate valuation?
Of all sports memorabilia, baseball is the most collected sport. Of all baseball memorabilia, Hall of Famers are worth the most, especially things connected with their greatest moments. Of those, a players' autograph jumps in value after he dies (as the supply goes from infinite to fixed). An example she gave: Ted Williams' signed balls jumped from $100 to $300-$500 the day after he died. And of all players, can you guess whose memorabilia is collected the most? Babe Ruth's. It's also worth the most, overall. People want their holy relics.
Leila was also asked if Ruth is number one, what player is number two? I think most people were expected the answer to be Mickey Mantle (a Mantle rookie card in prime condition sells for millions of dollars, but it was actually Jackie Robinson, another of our patron saints and the subject of another panel at SABR 47.
One other fascinating note: the memorabilia market took a hit during the crash of 2008. Then it rebounded not just because the economy for top earners started to rebound, but because some high rollers decided to put their money into purchasing memorabilia instead of stocks. Huh.
Another speaker who we could have listened to for hours was Tom Villante, another man who has lived his life in and around baseball and so has a treasure trove of stories to tell. How fitting that he addressed the Oral History Committee. He was a bat boy for the Yankees in the 1940s, worked on Dodgers TV in the 1950s (and has a Dodgers 1955 ring), is the inventor of the "Baseball Fever-Catch It!" slogan, and more. (Google him or check out this profile of him by Marty Appel: https://www.thenationalpastimemuseum.com/article/baseball-fever-tom-villantes-life-major-league-baseball)
He told many stories but one in particular about Ruth, about asking Pete Sheehy, the longtime clubhouse attendant for the Yankees, what was something about Ruth that nobody else knew. Pete's reply, "He never flushed the toilet."
Aaron Judge
I already can't remember (I'm typing this on the train back to Boston) why I had put Aaron Judge's name on this list, other than you can't seem to have a conversation about baseball with anyone these days without his name coming up.
Oh, wait, I remember. There was a panel where Judge's name came up, on The Future of Sabermetrics, moderated by Brian Kenny and featuring several people who are sometimes guests on his MLB Network analytics show: Joel Sherman (longtime columnist for the NY Post), Mark DeRosa (former MLB player), Vince Gennaro (president of SABR), and Mike Petriello (MLB.com writing and Statcast podcaster).
There was much great discussion on this panel and I hope there's a chance it gets uploaded to SABR.org later for all to see. A recurring topic was about how much players do–or don't–utilize the information that's available to them.
Joel Sherman: I probably covered thousands of games with Derek Jeter. Jeter would get to the ballpark and he wouldn't even know who was pitching. All he wanted to do was go out and play. Aaron Judge is like that now. I went up to him the other day and asked him what he was planning to do about that fact that he was [insert problem hitting situation here, I unfortunately didn't manage to catch the full description]. I was the one who told him he was [hitting for low average against lefties with two strikes, or something like that], and he said, "I am?"
Mark DeRosa: There's a rift betwen the sabermetric community and the ballplayers, when it should be a total synergy. (*interlocks fingers*)
Joel Sherman: The best organizations are melding this. It's like baseball jazz and a lot of it is on the manager. … Buck Showalter is going to take the numbers from the front office and turning it into the notes that your 25 players can play. AJ Hinch will guard against the bunt because he knows he's got a pitcher who can't handle the open base even though the front office is telling him he shouldn't do that.
Mark DeRosa: But a lot is on the players. It depends on the guy and it depends on who you were raised by. Cjipper Jones didn't like to do a lot before a game. He liked to sit in the clubhouse and play solitaire almost up until 6:45 and then put his uniform on and run to third base. He's going to be a first ballot Hall of Famer. He was not memorizing numbers. But he knew how to break down video. He taught me how to break down video. It's all about how you were raised. If I was raised by Hanley Ramirez I probably wouldn't know how I hit against lefties.
There are reams and reams of articles being written about Judge and the comparisons to Jeter are being made more and more. No one seems willing to write the words "next Derek Jeter" because that is both somewhat unfair to Jeter and to Judge and nobody wants to be "that guy," but it's being whispered. The outstanding character, the instant clubhouse leader, not bothered by fame, never wants to talk about himself and would rather praise his teammates, etc.–the comparisons to Jeter are inevitable.
Rather than anointing him "the next Jeter" perhaps it makes more sense to anoint him the next "quiet Yankee." I am reminded strongly of an article from GQ magazine by Peter Richmond from September 1998 about Jeter and his place in the mythic lineage of "quiet Yankees."
As Richmond wrote in the piece, each generation of Yankees "has featured one humble, homegrown baseball player possessed of enough grace to save the franchise's dignity in the face of [Steinbrenner's bombast]—men of no self-strut at all, but endowed with a innate sense of style that they've carried for their appointed terms and then passed on to the next bearer of the torch." In the spirit of the quiet, home-grown Gehrig balancing superstar Ruth, as Guidry did Reggie, as Mattingly did Winfield, so came Jeter, and now Judge. George is gone but even without him as ringmaster, the Yankees themselves will always swirl at the center of a media circus. The Yankees have built a special box section called the "Judges Chambers" and the people who sit there wear judge robes and wigs, and in every ballpark he plays in, fans show up with "All Rise" signs. Judge seems immune to the hoopla. He'll be going to Miami to represent the AL in the All-Star Game and the home run derby next week.
Phil Niekro
I mentioned earlier that the great Claire Smith was speaking at the convention. She and umpire Perry Barber appeared as guest speakers at the Women in Baseball committee meeting, and she told this story in answer to an audience question about interviewing players.
She related that the hardest interviews to do were often with an athlete who was approaching a milestone. While she was on the beat for the Hartford Courant, knuckleballer Phil Niekro was with the Yankees. She and another writer were assigned to interviewing Niekro when he was getting close to 300 wins. Niekro was the oldest player in baseball, the Yankees were in a pennant race, and he was losing start after start, stalled at 299 wins. He didn't much want to talk to the media, but finally the Yankees PR staff got Claire and this other writer together with Niekro.
"We were bombing out," she said. "Every question, it was like pulling teeth. He was giving pat answers and clearly didn't want to be there." The two writers were eyeing each other like what are we going to do? Niekro was being as hard to pin down as his knuckleball. .
Finally, in frustration, she asked the pitcher, "Why are you still here? Why are you still doing it?"
"Well, it's because of my dad," Niekro said. And that broke open the logjam. Niekro went on to tell them about how his father was in the hospital in West Virginia, possibly on his deathbed, and how much he wanted to win #300 for him. His father had taught him and his brother Joe the knuckleball. His father would come home in the evenings, exhausted from backbreaking work as coal miner, and his two young boys just wanted to play catch with him. And he would go out and play with them. Both Phil and Joe made it to the major leagues with the knuckleball and their father had listened on the radio to over 500 wins between the two of them.
But right then Phil didn't know if his father would even be able to hear him win number 300.
Ultimately he did get that win, on the very last day of the season, an 8-0 shutout against Toronto. (You can read Claire's game story from The Hartford Courant on that game here: http://articles.latimes.com/1985-10-07/sports/sp-16727_1_phil-niekro) After the game, his brother Joe came and told him that their father had been moved out of intensive care that day and that he'd heard the game.
"They say there's no crying in baseball but let me tell you, there was crying that day," Claire said.
And there was plenty of crying going on in the ballroom at the SABR convention as we listened to that story.
One last thing on Niekro, Jim Bouton told this story about him later in the conference:
Bouton: "I did the best I did with this knuckleball and I was sent to Carney, Nebraska. I'm throwing the ball there in Nebraska and we were in Holrich on a road trip and I see this crew-cut kid with blonde hair, skinny… I can see him across the field throwing a knuckle ball. I introduced myself to him. He said his name was Phil Niekro. I told him I was pitching for the Class D team and I said that knuckle ball works really well. He said but that's all I've got. Whereas I had a fastball, a curve, a sinker, AND a knuckelball. Poor kid, I was thinking, he's probably not going to get anywhere. (laughter) I'm a big fan of his and he's a big fan of mine."
Jim Bouton
Which brings me to the other pitcher on my list, Jim Bouton, whose book BALL FOUR is perennially listed among the greatest books of the 20th century. Not just sports books, all books. (It's the only sports book on the New York Public Library Books of the Century list, for example: https://www.nypl.org/voices/print-publications/books-of-the-century) Ball Four occupies a unique position in the landscape of literature, autobiography, sports, and politics. Jim himself has done many things in the course of being Jim Bouton, including the invention of bubble gum Big League Chew, a stint in acting, a battle with a small town in western Massachusetts to save Waconah Park (detailed hilariously and pointedly in his book FOUL BALL), or as moderator John Thorn put it, "a life in which one damn thing has satisfyingly led to another."
A life which we most of us were stunned to learn has been enormously affected by stroke and advancing dementia. Some had already read the New York Times article by Tyler Kepner which had appeared that morning on the same subject. Apparently Jim had wanted SABR to hear it first and hadn't realized the article would jump the gun by a matter of hours. His wife of 35 years, Paula Kurman, has a doctorate in interpersonal communication from Columbia and formerly worked with brain-damaged children. Upon Bouton's discharge from the hospital a nurse had objected, "You can't take him home if you don't have a full-time speech therapist." Kurman replied, "Bingo. That's no problem."
Bouton had lost all language ability and needed to relearn how to speak, understand, and write. Now he sometimes speaks perfectly, but he'll hit what Paula calls a "pothole." One thing that is clear from listening to the panel, Bouton has not lost his perfect comic timing, nor his ability to laugh at himself. Author Mitchell Nathanson introduced himself on the panel with the words, "I'm writing a biography of Jim Bouton," prompting Jim to interrupt in faux shock, "You are??"
"I am from Philly and I'm a Phillies fan, not a Yankees fan," said Mitchell, who has written a biography of Dick Allen. "You can tell the story of baseball without Mike Schmidt. But you can't tell it without Jim Bouton."
Moderator John Thorn asked him, "what's it like to write the biography of a guy who has so eloquently written it himself?"
"You sound like every editor I pitched it to," Nathansan deadpanned. "A first person narrative can't put itself in a political context. My job is to put that life and his work into historical perspective and create that context. When I read Ball Four I think of Thomas Wolfe, who was also a confession writer. Look Homeward Angel, You Can't Go Home Again…. Wolfe's editor Maxwell Perkins said he didn't need a biography but there is a great biography of Thomas Wolfe."
Marty Appel, former Yankees PR director, was also on the panel. "I started with the Yankees in 1968, answering Mickey Mantle's fan mail. Jim was in his waning weeks with the team. I was a fan, and he was Jim "the Bulldog" Bouton who won 20 games and was a World Series hero. Jim was also a fan who grew up loving baseball. One day, an off day, Alan Alda was shooting a movie at Yankee Stadium. It was Paper Lion. They put out a call for Yankees players for fifty dollars or something to be extras. Everybody showed up. I struck up a conversation with Jim, and Robert Kennedy had just been killed—we bonded on that. I thought: I like this guy, this is great. Fast forward a few years, I'm the assistant PR director. We had to be company men when the book came out. We had to defend Mickey and Whitey and Ellie as an organization. Sometimes I look at Sean Spicer and I think I get it. I went out and bought Ball Four myself at Scribner's on 5th Avenue. It forever changed sports writing and baseball. I loved the book. This Is my 50th year in and around the game. I have met so many fans who said 'Ball Four made me fall in love with baseball.'"
One of those fans was Mark Armour, the director of the SABR BioProject. "I was nine when I read it first. I was precisely the person that Bowie Kuhn claims to be concerned about. I was a young impressionable baseball nut. And when I was done, I loved baseball even more. What Kuhn was right to be worried about was about how it changed my views on the way players lived their lives. When the strike came along two years later, when my elderly neighbors were thinking the players were pampered and overpaid and the owners were only in it for the love of the game, I could say, 'Yeah, surrrrrre.'"
"It wasn't just hostility but fear," that Bowie Kuhn and baseball had for Jim, said Paula. "Jim didn't realize he had turned over the rock that exposed the unfair labor practices of baseball. It wasn't just the drinking."
Bouton: Though there was some of that. (laughter)
Paula: But exposing the unfair labor practices led ultimately to free agency.
Bouton: And they haven't forgiven me yet.
They talked about the incident when Bowie Kuhn called Jim into the league offices to dress him down about the book.
Bouton: I forget where it was, but Bowie Kuhn wanted to let me know this was a bad thing I had done and I was supposed to behave myself. I think Marvin Miller was there, too. Marvin said, we're not here so Jim can explain himself. I wasn't nervous at all. In fact I was looking forward to it. I knew Bowie was a bit of a stiff…
John Thorn: Well, he's really a stiff now… (laughter)
Bouton: But yeah, they wanted to know what was I thinking. I was explaining myself, and they were telling me these things needed to be removed from the book. I had read it over right before the meeting to make sure everything I had said was true. There had to be a dozen or so guys outside the office with signs saying "Save Bouton, Save Ball Four," and they had to usher those guys out. It just made a better story out of it.
Jim had several stories to tell in which his impairment didn't seem to factor much, including the one I already included about Phi Niekro. Here's another:
Bouton: I should give more history of the knuckle ball. There wasn't a Little League in my town, but this guy, Paul Bonvarle (sp?), he was throwing this ball with his fingertips and I said 'can you do that again?' I played catch with him and realized 'I have to learn how to do that thing.' So I started playing catch with my brother in the front yard and I must have thrown a hundred pitches and they never moved. Then one left my fingertips and all of a sudden broke down and hit him in the knee cap. And he was lying on the ground grabbing his knee saying, "what a great pitch! what a great pitch!" (laughter) I spent that whole summer trying to maim my brother. (more laughter)
Jim Bouton may no longer have the sharpest mind in baseball, but he's still a sharp wit.
WRAP-UP
I think if a central theme or common thread emerged from all the presentation at SABR 47, it's an emotional one. Nearly every panel had some kind of emotional resonance and so many of them on great figures of New York baseball history—Casey Stengel, Jackie Robinson, Yogi Berra, Jim Bouton—seemed ultimately about humanizing them and making an emotional connection. That might surprise some people who think SABR is all about numbers. SABR is actually all about understanding. Knowledge is built on many fronts: numbers are one tool but they're not the only tool. Our connection to the sport is on many planes, including the spiritual and emotional ones, as we are connected to any human endeavor. We wouldn't be so passionate about it otherwise.