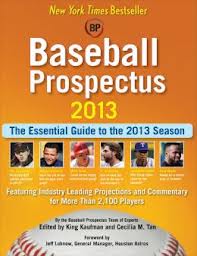 So now you guys know what I was doing all winter. I was co-editing the new, more massive-than-ever Baseball Prospectus 2013 annual. The tome this year is 592 pages and contains capsule descriptions and stat projections for over 2,200 players, more than ever before.
Two thousand names is a lot to work with as an editor, but keeping the data on these players, and getting their names right, is a huge part of the editing process. Of course, some guys recently changed names, like the Player Formerly Known as Fausto Carmona, and Giancarlo Stanton… but we manage.
In the long dark winter months, as we toil in the serial comma mines, some names jump out like an opal in the coal. Names like Kevin Quackenbush, Beamer Weems, and Max Fried. As I mentioned in this interview with me at Bugs & Cranks about BP, let me tell you, at three in the morning, when your co-editor IMs you to say "Did you realize there are TWO players named Guillermo Pimentel?"–you feel Max(imally) Fried.
Then there's that moment when I realized that Gavin Cecchini and Garin Cecchini were two different players, not a typo. They're brothers, and I wonder what their mother was thinking. (While we're at it, why was the mom of Jayson and Laynce Nix so fond of the letter "y"?)
I think the most oxymoronic name, of the 2,210 in the book, is that of Sonny Gray.
Are they selling the naming rights to players now, as well as stadia? Viz: Ehire Adrianza.
As an editor, the names that catch my attention the most, though, are the ones I'm absolutely certain are misspelled the first time I see them. There are a lot of them.
Top Names That You Think Must Be Misspelled:
Joc Pederson
Jefry Marte
Khris Davis
Mat Gamel
Jenrry Mejia
Jeurys Familia
Matt Purke
Domonic Brown
Darin Ruf
Jedd Gyorko
Jeudy Valdez
Edinson Volquez
Runners up who almost made the list: Jesmuel Valentin, Dismasther Delgado, Adeiny Hechavarria, Tyler Knigge, and Kirk Nieuwenhuis.
Then, joining such greats as Mel Ott and Jimmy Foxx, not on any hitting leaderboard, but in having names that crossword puzzle writers will love, or which look like crossword writer must have surely invented:
Names That Crossword Puzzle Writers Made Up:
Yasiel Puig
Rafael Ynoa
Chris Gloor
Jair Jurrjens
Caleb Gindl
Nyjer Morgan
Anthony Zych
Matthew Szczur
Gorkys Hernandez
Zeke Spruill
Then there are the names that seem like they ought to be baseball-predictive… or the opposite. You know, like how Joe Panik had better stay calm out there, and it's true, Mark Buehrle is 230 pounds, 6-foot-3. Brad Hand is a pitcher, but why is Charles Brewer in the Diamondbacks system? There's a pitcher named Josh Outman, but right now he catches too much of the plate to live up to that moniker. And Neil Walker is a hitter, but he strikes out twice as often as he walks. Hey, we can even have multi-lingual puns here, with pitchers like Arquimedes Caminero–which means walker, but as a pitcher his walk rate has actually dropped every season so far.
DAN STRAILY — You'd think he'd have control problems with a name like that, but if anything, Straily catches too much plate, if his home-run rate is any indicator.
SEAN DOOLITTLE — He's actually done a lot, transitioning from first base to pitching to debut in MLB last year with the A's.
GRANT BALFOUR — Well, he walks 3-4 men per nine innings, anyway.
AARON LOUP — He really needs to develop a curveball, no?
R.A. DICKEY — He's actually a really nice guy.
ROBERT FISH — He'll have to induce more strikeouts to live up to that name.
NAVERY MOORE — Only if he played for the Ravens.
MIKE MINOR — He put in 30 starts in the big leagues last year, though.
SCOOTER GENNETT — Oh wait, his real first name is Ryan. Doesn't count.
KAMERON LOE — In fact, does throw a sinkerball. (See also, Derek Lowe.)
MIKE FIERS — Actually, his fastball tops out in the 80s.
MICHAEL WACHA — Is that pronounced Walker?
CHRISTIAN YELICH — Clearly destined to be a third-base coach or an evangelist, perhaps.
ZACK WHEELER — He's a pitcher with advanced mechanics, but can he steal a base, too?
JOSH SMOKER — But he actually has a whole selection of pitches, not just a fastball.
JOSH SATIN — Is he smooth at three infield positions?
KEVIN SLOWEY — Ironic: his problem is he works too quickly from the stretch and loses his command.
CHANCE RUFFIN –Left-handed hitters mug him in a dark alley?
DREW STUBBS — Insert lottery joke here.
Here are some that I need to memorize for the next time someone in the stands during a rain delay tries to verbally fill out a lineup or roster entirely of
GUYS WITH TWO FIRST NAMES:
JORDAN NORBERTO
ADDISON RUSSELL
BRETT CECIL
JUAN JAIME
ARCENIO LEON
HUNTER MORRIS
IAN STEWART
CHAD JAMES
CHAD TRACY
THOMAS NEAL
SHAWN KELLEY
FERNANDO RODNEY
Of course I'm not putting the positions in here because that would be giving away all my secrets. Also, you're supposed to look it up in the book, or at least at the Baseball Prospectus web site.
Speaking of guys with two first names, let's not forget:
Guys with two last names:
ANDRELTON SIMMONS
BLAKE PARKER
STARLIN CASTRO
WELINGTON CASTILLO
DARWIN BARNEY
HENDERSON ALVAREZ
GRANT DAYTON
LOGAN MORRISON
DONOVAN SOLANO
REESE HAVENS
GONZALEZ GERMEN
BRADLEY HOLT
GRADY SIZEMORE
CARTER CAPPS
WALKER WEICKEL
CAMERON MAYBIN
RYMER LIRIANO
HUSTON STREET
TANNER SCHEPPERS
Baseball Prospectus 2013 is on sale now as book, ebook, and app. (Actually, last I looked Apple was dragging their feet and the iTunes app wasn't live yet, but it should be any day now, and this year there is an Android version, too.) Last year I really enjoyed having the app on my phone during Spring Training because there wasn't a call-up I saw in any of the games I went to that I couldn't instantly get a scouting report on, which made me the hero of my entire section at Steinbrenner Field.