I always liked going to Yankees games as a kid, even if I didn't really understand what was going on all the time. Being with my Dad, the excitement of the crowd, having a picnic lunch in the stands or getting to stay out late, those were plenty of reasons to like going to the game without anything to do with baseball itself.
But when I really started to enjoy watching the game, was when Dad and I started keeping a scorecard. He'd score one inning, and then I'd score one inning, and we'd go like that for the whole game.
I think I must have been about ten years old when we started. We were at Yankee Stadium early–we often arrived early enough to see batting practice beforehand–and we had bought that day's program and scorecard book. We were reading it to keep from getting bored. I think we always bought one, but this was the first time we read the instructions in it on how to keep score. Or maybe that was the first time we'd seen it printed–I notice that in the scorecard I picked up in August '99, there's no description of how to keep score. Which is a bit sad, to me.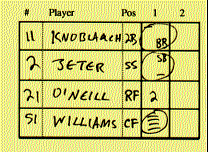 But anyway, at ten years old, I was fairly well impressed with whoever invented scorecard notation. I mean, how brilliant–each box has four corners which represent the four bases and what happened at or around each one to advance or put out the batter/runner. When I was ten this seemed like another proof that the fundamental physics of the universe made baseball the perfect sport. Or something.
To the left, the way we would have scored an inning where Knoblauch walked, then advanced to third on Jeter's single (there's a line in the upper left corner that's hard to see on this scan), O'Neill popped up to the catcher, and then Williams hit a home run, scoring both runners. (Jeter stole second in there, too.)
I don't remember us marking things like the Strike Out Swinging vs. Looking, and I do remember the way single, double, triple and home run were scored–and it was a bit different than the way that's popular now. As I learned from talking to people at the games last summer, and from poking around–where else–the Internet.
There's a great site —The Baseball Scorecard–with tutorials, glossary, and other info about keeping scorecards. I didn't agree with all of Patrick's definitions there (i.e. it had said that on a walk, all runners advance one base, when actually if there's a guy on second and no one on first, the guy remains on second…) but most of it is pretty good. Lots of explanation of what the significance of various stats is, and how to calculate them.
Nowadays, they sometimes print a little gray diamond inside the box, and for a single, the scorekeeper draws a line showing the runner's path from home plate to the base. For a walk, same line, but BB written in the corner. If he advances to second on a play, or steals, another line, drawing his travel from first to second and a notation to mark how he got there. To the left I've scored the same inning as above, showing by the numbers of positions in the corners whose hit or play it was that advanced each runner. In Knoblach's box, you see the "2" for Jeter advancing him to third, and the "8" for Williams scoring him.
OK, the more modern method has some elegance, and is a clear evolution of the way I learned to do it. We used to just circle it whenever a runner would score. Now the trip around the bases makes its own kind of "circle." And it is in some ways easier to jot down how each base advance worked. But too many little numbers–if there's then an error on the play, the position number from the opposing team also has to be entered, and to me it's not as obvious on the glance how many runs scored. But hey, whatever works for you.
I guess I'm just a traditionalist, and like to keep doing it the way I learned. I have adopted the backwards K for Strike Out Looking, though. Because it's fascinating to watch the patterns emerge for certain batters throughout a game, the battle between pitcher and opposing lineup. Is this pitcher overpowering them with speed and heat? Or is he just keeping them guessing? I don't, however, write in the count for each at bat, and there's just no easy way (other than with a computer) to keep track of total pitches thrown. (I don't like to do too much math when I'm trying to enjoy a game…)
Another thing I've started doing is marking the difference between, say, a pop up to the first baseman ("3") and a grounder to the first baseman that he takes and then steps on the bag ("3, with a little squiggle representing the grounder…). I got this from a friend (Aaron, the husband of my friend Bonnie who got married on the day of Game One of the World Series last year), who not only records each out, but draws the trajectory of the ball on each fly, so you know if it was a high pop up, or a line drive that was miraculously caught, or what.
Did I mention I even keep score when I watch games on tv? I even do it sometimes when I listen to the radio (or Internet), if I'm not in the middle of doing something else. For televised games last year, I found myself improvising scorecards on the back of napkins, placemats, yellow legal pads. Of course, some of the improvisation was due to my being in weird places when I watched the game.
I was in Atlantic City for a convention during the final Yanks/Rangers playoff game last October, and ended up in a bar/restaurant at Caesar's Palace keeping my score on the back of a Caesar's napkin, which turned out to be just about the right size. The maitre'd was a nice old guy, Yankee fan, too, who kept stopping by to find out what had happened while he was away from the big screen tv, seating high rollers who had gotten meal tickets and what have you. And because I had the scorecard I could give him a really good recap…
Then there's the Game Three of last year's World Series, when corwin and I were in Walt Disney World, and I used the placemat from the fancy french restaurant in Epcot Center that night when we went to the All Star Sports Cafe to see the game. Did I mention there were no Braves fans left in the place by the seventh inning? Kind of strange since the Disney Wide World of Sports Complex is the Braves' spring training home. We had thought maybe we'd be on enemy territory there. But well, Florida's actually full of retired New Yorkers, and of course Disney World is just a planet all its own. So in the end it was us and a couple of other guys from New York cheering. (They were pretty shocked to find out we're from Boston.)
Now, of course, in the long cold nights of the off season, I've made up a scorecard template for myself in Quark Xpress that I can print out at will. And corwin's wondering if there's a scorecard for the Palm Pilot (and if there is, if he actually wants it). If anyone out there wants a PDF of my scorecard, here's the PDF of it now!
(2001 Season Update–my scorecard has evolved and improved: see the entry Scorecards, Part Two.)
Remember, mine doesn't have the dinky baseball diamond in every box. At least, not this year.
Then there's the whole question of whether to KEEP old scorecards or not. I think my policy will be: I'll keep the ones in the souvenir magazine from the games, because I don't actually get to go to that many games. And I'm keeping my Caesar's napkin, for instance. But day to day regular season televised games? No. After all, that's what the Sporting News is for. (Later update: I lied. I've never thrown any of them away. Not a one.)
Pencil or pen? Pencil. I can actually write smaller with a sharp pencil–and of course erase if I need to. Do you write down the time of the first pitch and of the final out? The weather? Total playing time? Attendance at the game?
Then of course there are the times when, no matter how closely you're trying to follow the game, you just don't know what happened. The story goes that one day Fran Healy leaned over to Phil Rizzuto in the Yankee broadcast booth, glanced down at Phil's scorecard, and said, "Scooter, what's 'WW" mean?"
Rizzuto: "Wasn't Watching."